22/02/2023
LNB Features
Last year we had the pleasure of revealing a total revamp to the look and feel of our showrooms. Thanks to considerable work in collaboration with our clients and their retailers, we unveiled a new ultra-customisable online portal with features such as a more visual catalog, modular linesheets, smart quantity editing, enhanced product sheets, and a more immersive look display. However, our platform's evolution doesn't end there.
LE NEW BLACK is not only the most intuitive wholesale solution available today but also the most experienced, having been the first wholesale platform for creative brands on the market at the time of its launch in 2009, meaning that innovation is naturally one of our founding principles.
Today, we continue to push the boundaries of what it means to be a digital platform, striving instead to create a digital experience, with the goal of amplifying the brand stories of our clients online. As a result, we regularly add new features, and enhance existing functionalities, incorporating new technology in order to refine our user experience and provide an avenue for future growth.
Read on below to discover the latest round-up of platform feature updates that continue to cultivate an even more collaborative relationship between brands and buyers.
A collaborative portal for brands and buyers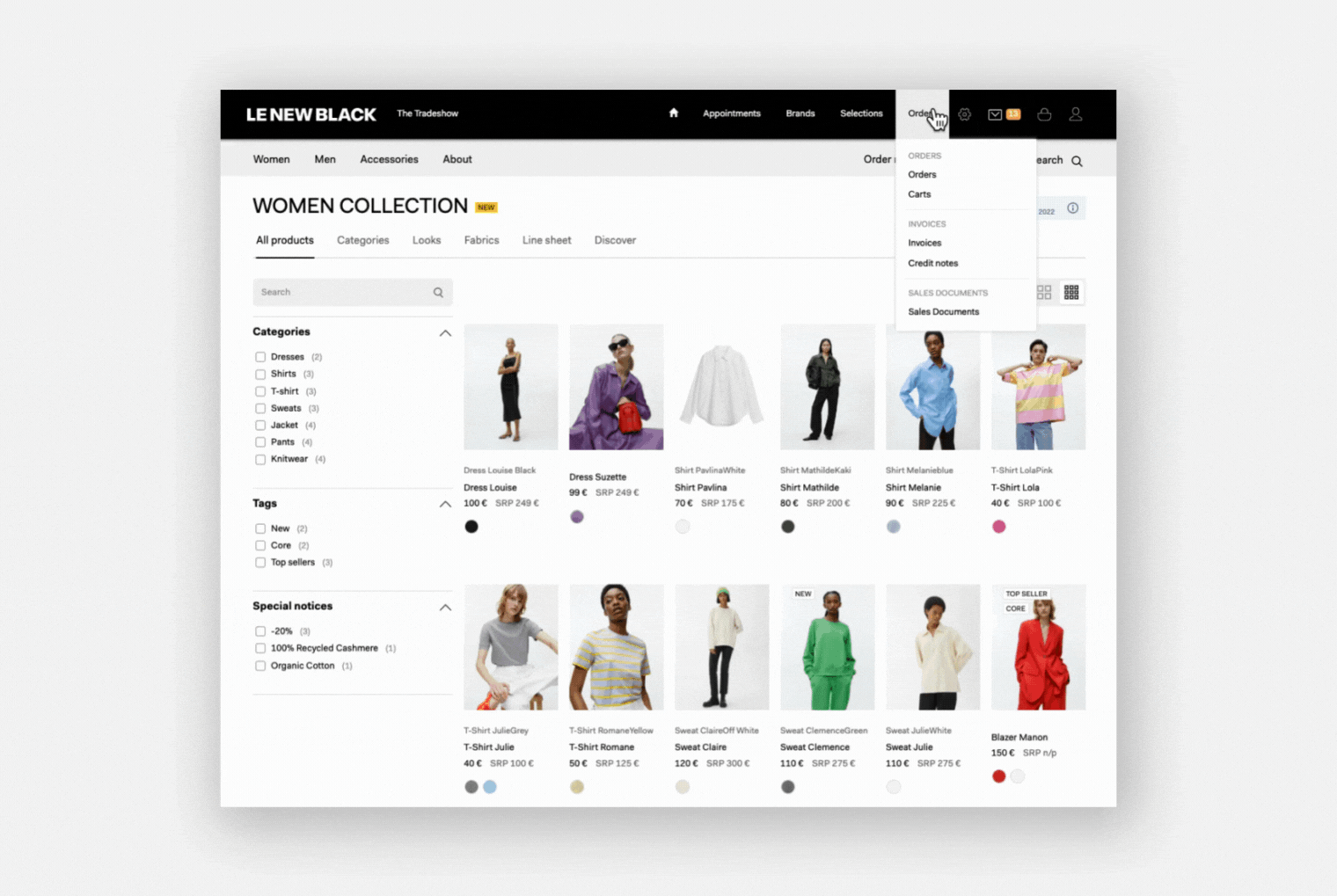 The new Sales Documents module now allows brands to store all order-related documents directly inside their LE NEW BLACK showrooms, giving buyers free access to information anytime, and as many times as necessary without the hassle of the constant follow-up needed on both sides to ensure the correct transmission of information. Watch our latest webinar "Optimise your wholesale processes with the LE NEW BLACK Order Lifecycle" to find out more about this revolutionary new feature.
Customisable product tags and filters to put the spotlight on seasonal hero products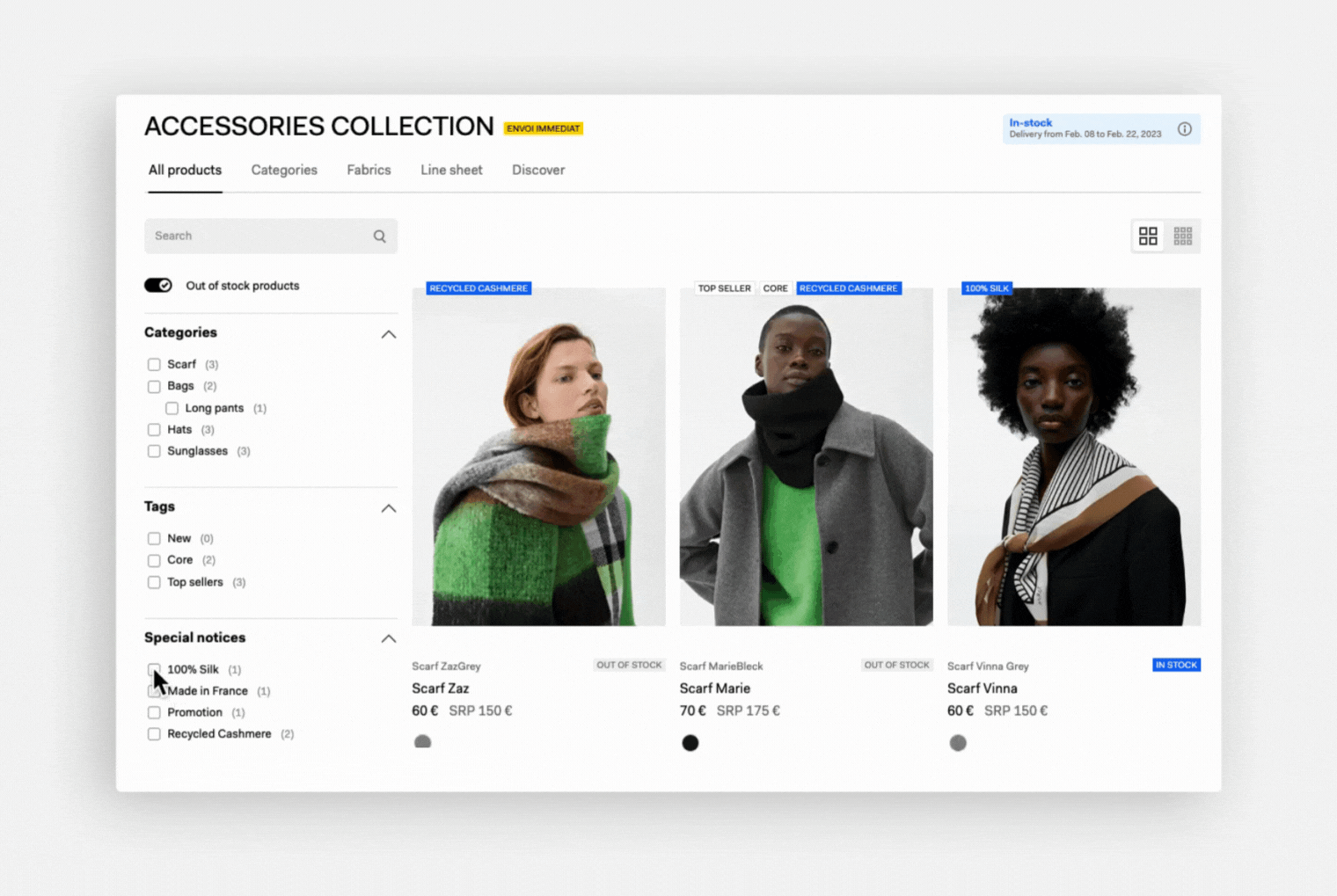 Highlight hero products each season with customisable tags, putting the spotlight on collection pieces with exceptional production characteristics and grouping them by theme such as Made in France, or Organic Cotton. Conversely, use our personalisable labels to organise products by arrival date e.g. Drop 1, Drop 2, Drop 3, making it crystal clear for your retailers which products they can expect to have in-store at any given moment. Or, alternatively, you can even use our personalisable tags to sort products by category, highlighting new collaborations, limited editions or timeless carryover styles. The possibilities are endless!
Reporting that is as tailor-made as the products it analyses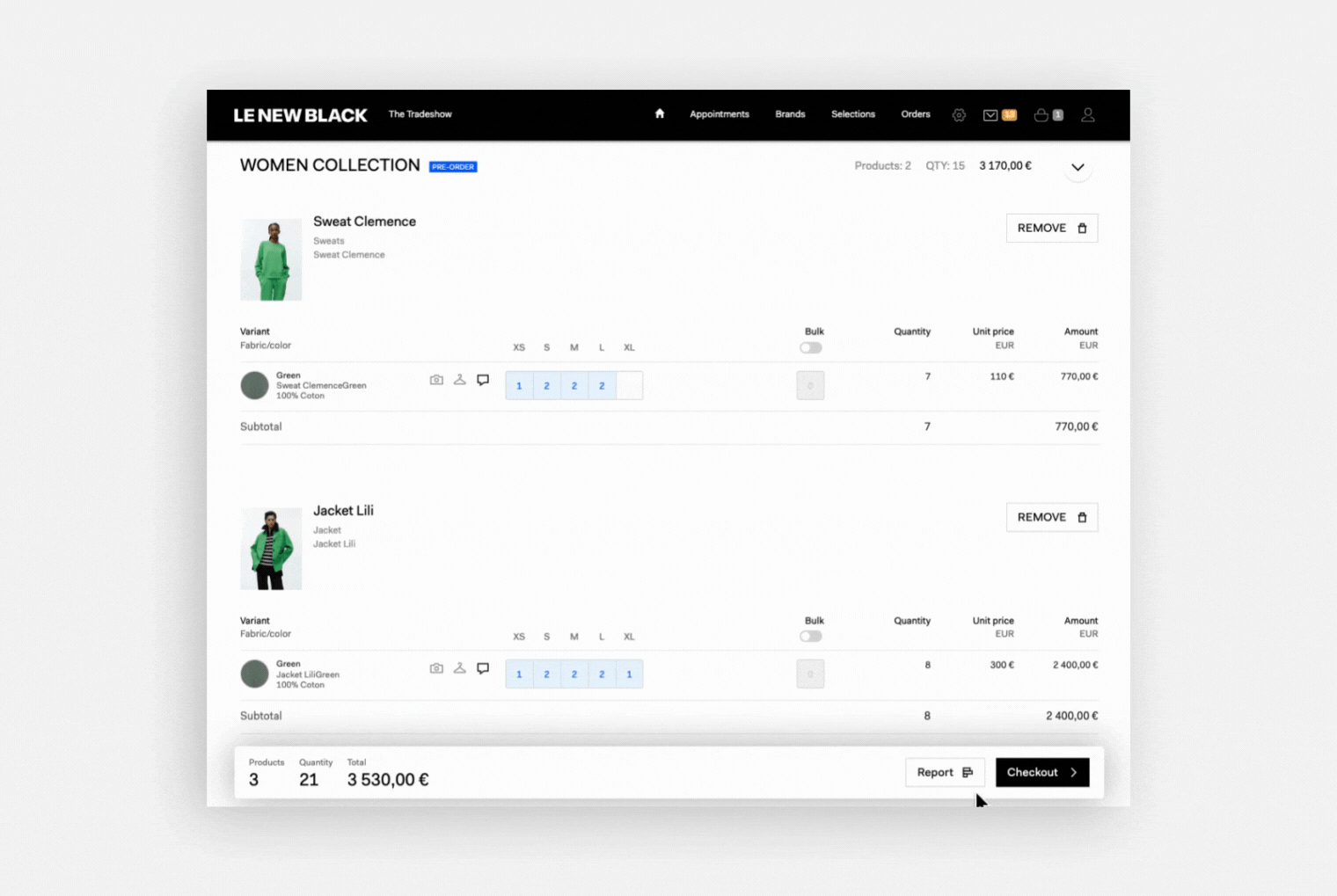 Working hand-in-hand with our customisable product tags is the LE NEW BLACK Custom Reports feature, which give a snapshot overview of seasonal hero product performance. But brands are not the only ones that benefit from this development, retailers can also access an in-cart product breakdown report, allowing them to see at a glance the percentage of products that are attributed to any given tag.
An intuitive shopping experience that mirrors only the best B2C websites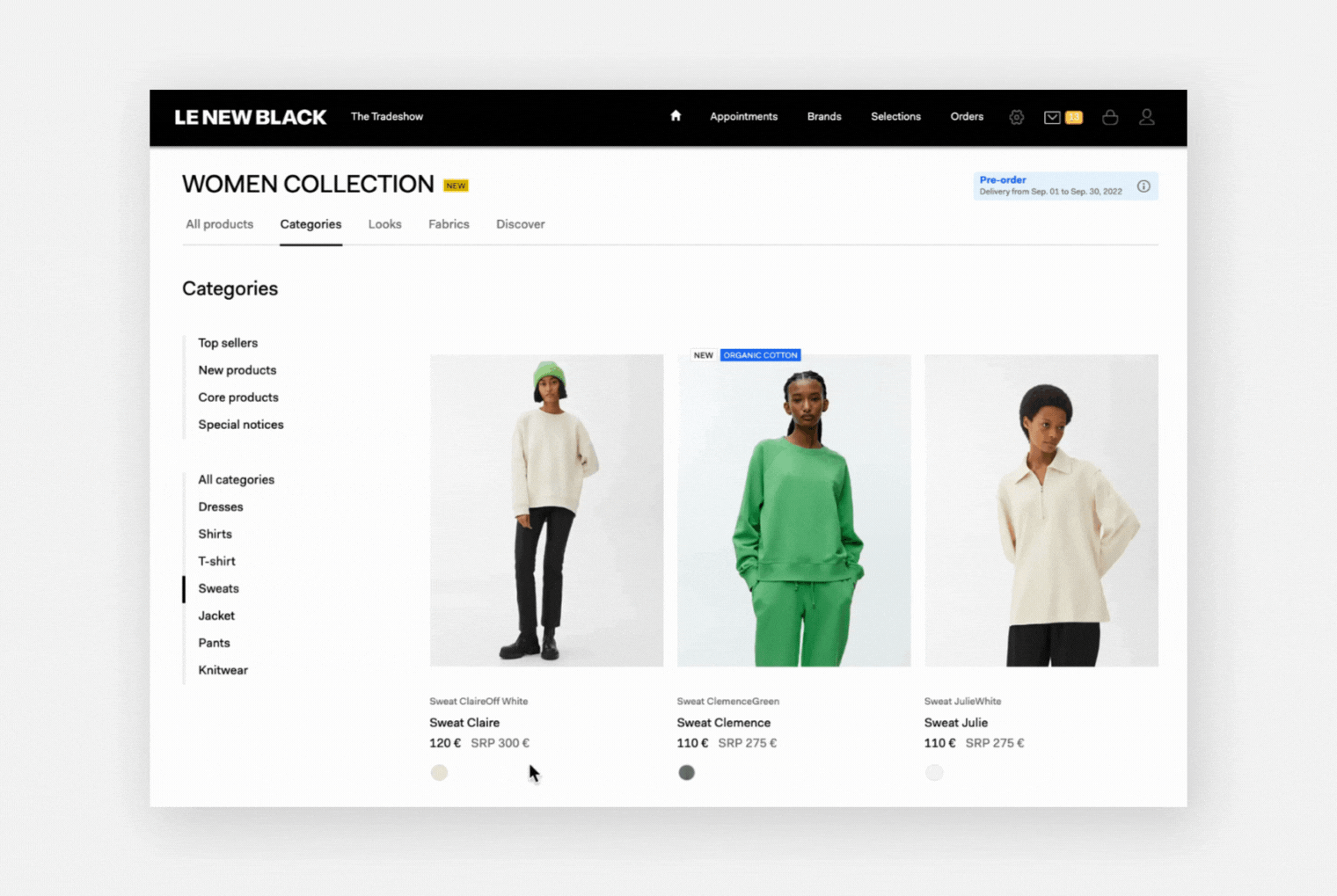 You asked, we listened. For those buyers that are always in a rush (see, all buyers) the buttons Quick View and Add to Cart are now available on both the Products and Categories tabs when browsing a collection. Save precious time by inputting order quantities without ever having to leave the page, or by adding all products to the cart and inputting quantities at the end!
A product browsing solution inspired by physical collection discovery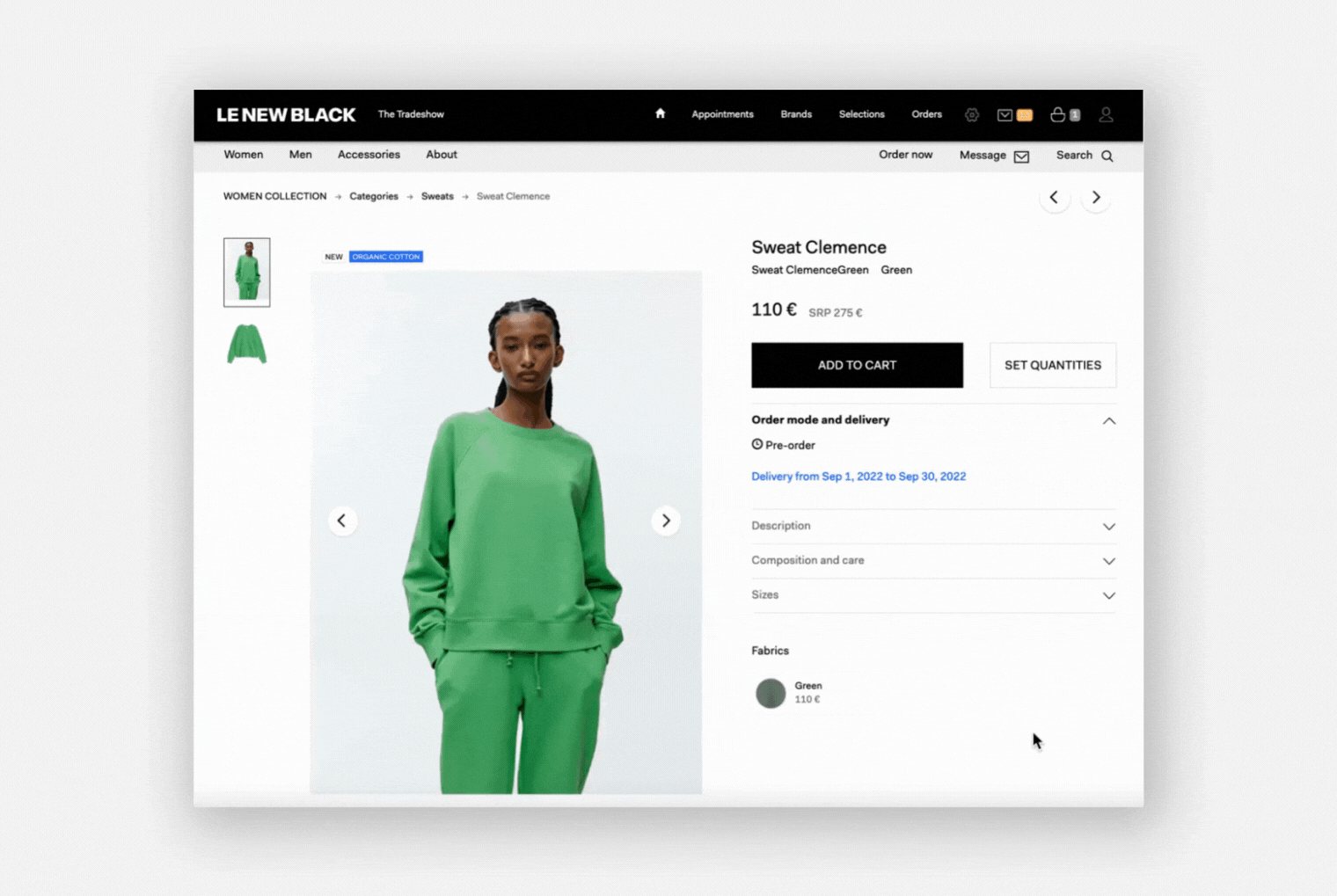 Switch intuitively between products and looks with the Related Looks section, which now allows users to navigate back and forth between products and their look image. Buyers are now free to discover the collection as they would in the physical showroom, taking inspiration from the way the brand translates its DNA through styling whilst interacting with the product simultaneously.