26/10/2022
Industry
This October, LE NEW BLACK's renewed its partnership with the Fédération de la Haute Couture et de la Mode (FHCM). To celebrate, the LE NEW BLACK team visited the FHCM SPHERE Paris Fashion Week® Showroom to have a chat with two of the newest members of the initiative, brands Maitrepierre and PONDER.ER, and learn about their inspirations, thoughts on the state of the industry and advice on starting out.
Firstly, LE NEW BLACK spoke with Sébastian Hernandez and Alphonse Maitrepierre of the eponymous brand Maitrepierre. The brand was founded by Alphonse in 2019, who after studying at La Cambre in Brussels and interning at Jean-Paul Gaultier and Acne, won the Prix de la Ville de Paris Award for Emerging Brands in 2021 and has continued to capture industry attention thanks to collaborations with brands such as Emmanuelle Khan and Desigual.
LE NEW BLACK: Can you please tell me a bit about the inspiration behind the brand and its DNA?
Alphonse & Sébastien: The brand was inspired by old couture archives that we try to blend into something more modern and sporty. Our most iconic piece is our Manette bag, which is shaped like a video game controller. We took the shape of a very classic bag and then fused it with the shape of a modern device, which is very much reflective of the brand DNA. We often take 17th-century waistlines and decolété that we work with to give it a more sporty feeling, styling it with baggy pants for example, or taking a tailored jacket but mixing it up with sweatshirt material to make it more comfortable whilst also creating a flattering silhouette
We also work predominately with deadstock fabrics, for instance, this season's green Manette bag colourway is a very limited edition along with the yellow and turquoise. We source our materials predominately in Europe with only a few being sourced from countries further away such as Korea.
In terms of production, accessories are made in Spain, and ready-to-wear is made in France. Our goal is to keep everything very local and as natural as possible. Many of our fabrics are dyed with natural enzymes, for our prints we use non-polluting inks, and all of our polyesters are made from recycled plastic bottles.
Another important element for the brand is our hybrid pieces, which have a trompe l'oeil effect. Essentially it looks like the wearer has donned two garments whilst only one is being worn. Each piece is also made with practicality and functionality in mind, with pockets or additional layers of fabric added so the wearer can keep their sense of discreetness without needing to wear an undergarment.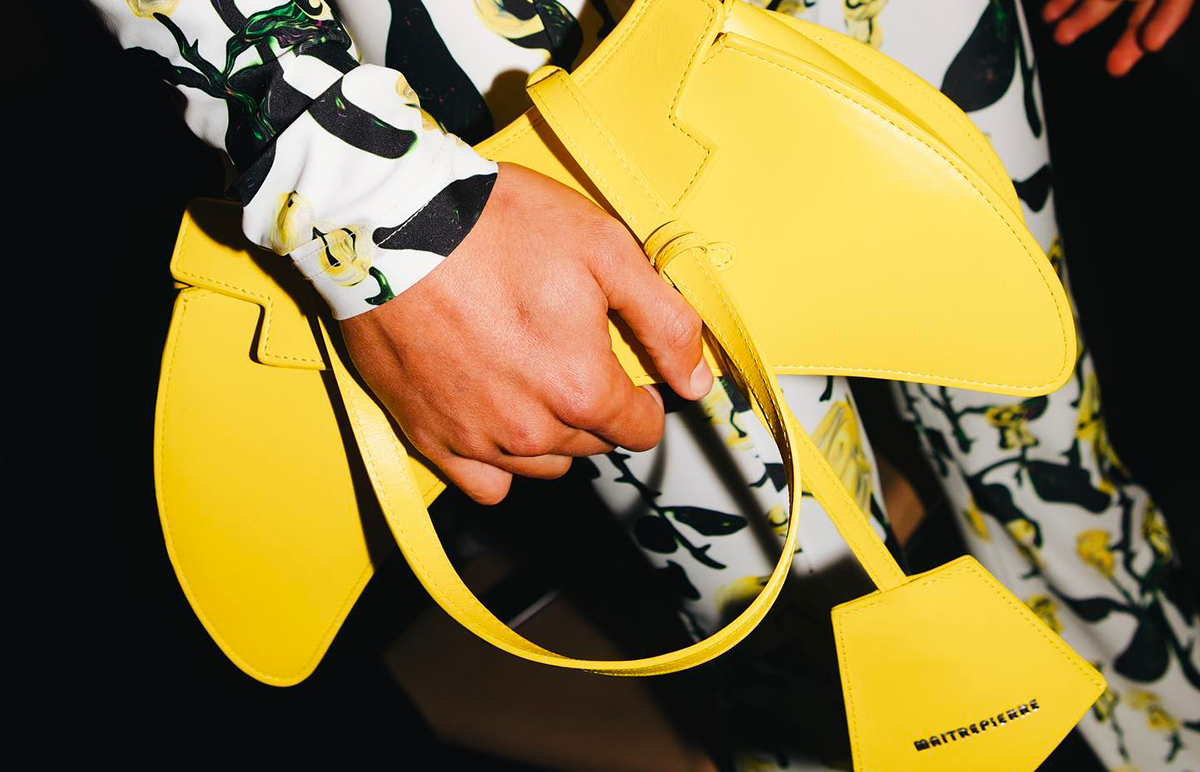 The Manette bag. Image courtesy of Maitrepierre and the Fédération de la Haute Couture et de la Mode.
LE NEW BLACK: Was sustainability always a part of your design approach?
Alphonse & Sébastien: Yes, it has been. Today it's quite criminal to consciously make the decision to not take care of the environment. There is so much awareness now around the state of the planet that it should be illegal to continue to produce in a way that overuses water or other precious resources. It's not even that much more expensive to produce with sustainability in mind, and if everyone decided to adopt the same approach, it would just become a normal part of designing a collection which is what it should be.
Producing locally is also easier for us being a younger brand, we need to keep close relationships with our suppliers and to be close physically in order to monitor the fabric quality, and respect our deadlines. It helps us to keep more control over the production process.
LE NEW BLACK: Do you have any tips for other young brands that are just starting out?
Alphonse & Sébastien: Young brands need to be prepared to make their own mistakes (and learn from them). It's also important to find a balance between expressing your own creativity and brand DNA and creating something commercial, a balance that can be hard to find and to continue to keep over time, from season to season. That's how Alfonse and I work together, he injects creativity through his designs, and after we decide together how to shape the collection, how to bring commerciality, and which pieces will be exclusively for the press or brand image. Certain commercial pieces can also be styled differently for the show in a much more creative way, but finding the balance between the two is always one of the biggest challenges for young designers.
LE NEW BLACK: So where is Maitrepierre available for sale?
Alphonse & Sébastien: We will be at Printemps next month, we have our own boutique in Paris and we also sell online at http://maitrepier.re/.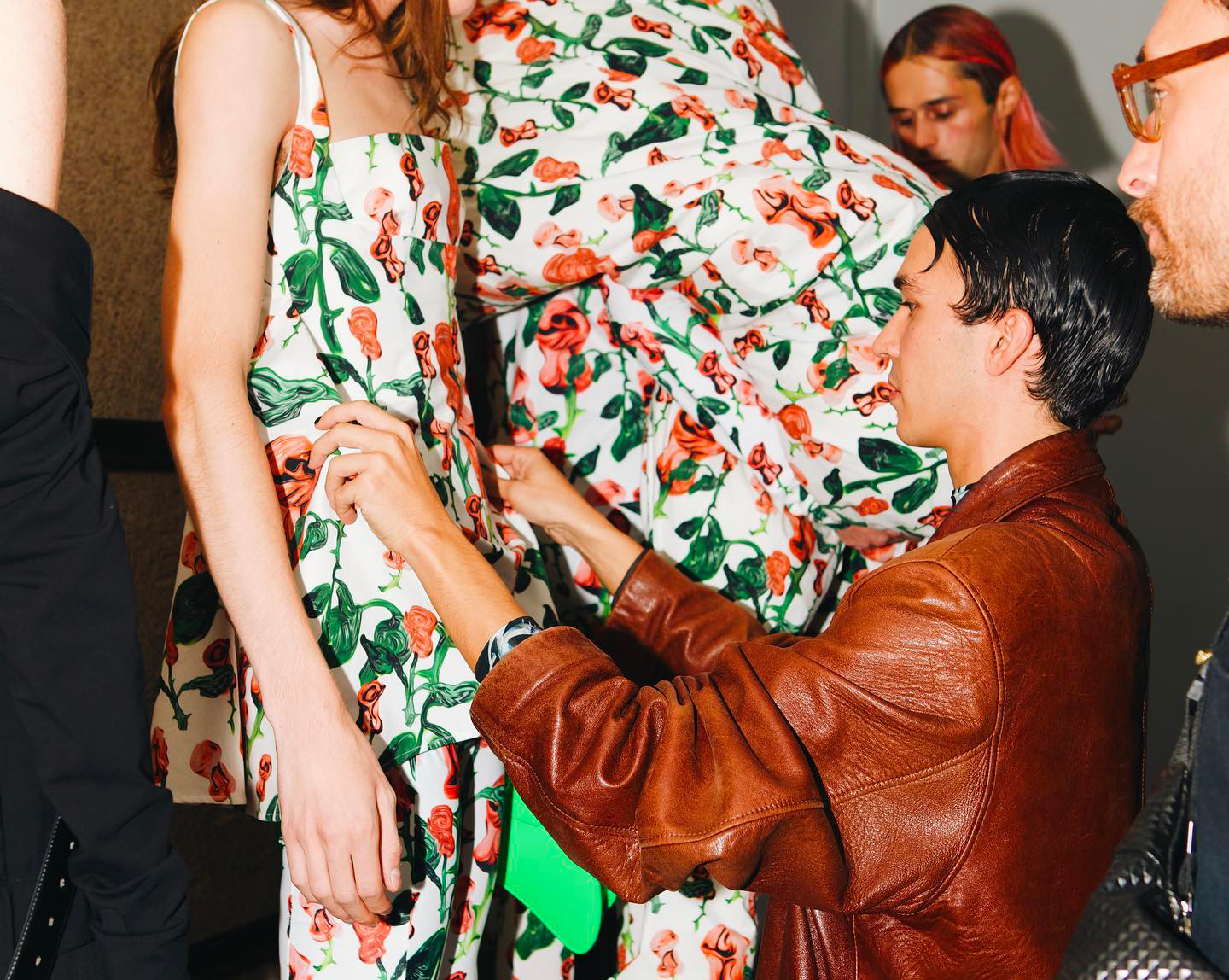 Alphonse Maitrepierre and Sébastien Hernandez preparing models for the Maitrepierre show at the Palais de Tokyo. Image courtesy of Maitrepierre and the Fédération de la Haute Couture et de la Mode.
Next LE NEW BLACK spoke with Derek Cheng of the brand PONDER.ER, which was awarded the Yu Prize in June of 2022. The brand was founded in 2019 after Derek Cheng and Alex Po met during their time studying fashion together at Central Saint Martins in London. They work predominately with pleats, knitwear, and smocking, using their collections as a platform to question gender issues.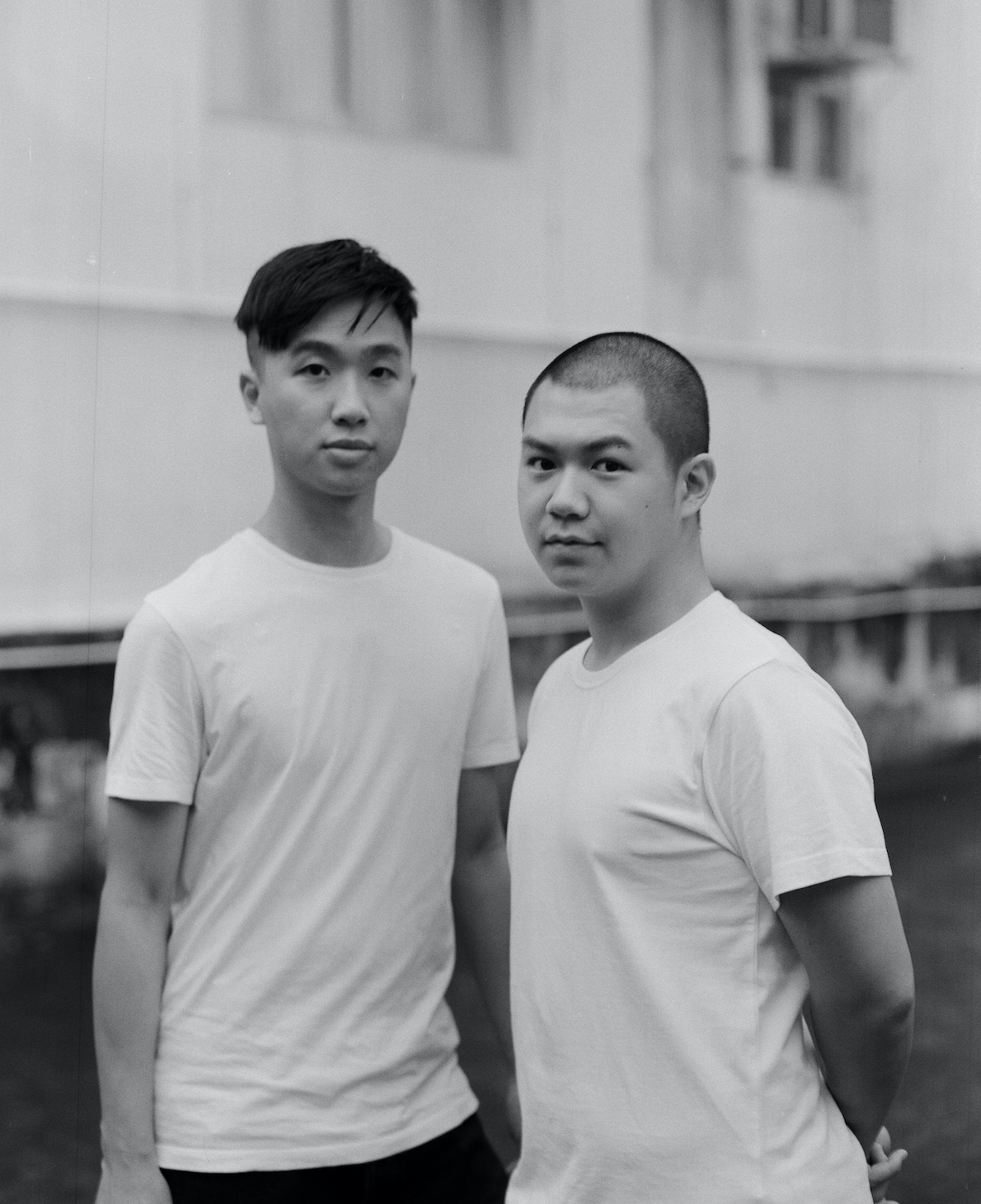 Derek Cheng and Alex Po of PONDER.ER. Image courtesy of the Yu Prize.
LE NEW BLACK: Can you please tell me a bit about the background behind the brand, your inspiration, and how you first got into designing together?
Derek: We started out together in 2019, so we have been going as a brand for almost three years. My partner Alex and I met whilst studying at Central Saint Martins, having been both classmates and flatmates. At the time we were doing a lot of projects that were based on menswear, and although our personal styles are quite different, one thing we realised that we have in common is our alternative approach to menswear. Menswear tends to have a lot more restrictions than womenswear so when designing for the concept that inspires all of our designs is really about "liquifying masculinity", which is based on both Alex and I growing up as not very "masculine" boys, by the stereotypical social standards. So, a lot of our designs are inspired by menswear, but ultimately the outcome of the products is gender-fluid and we encourage our customers to really experiment with how they dress and how they express themselves.
Another element that has been key to our development is the use of textiles, for example, our crochet and smocking pieces which are not commonly seen in menswear. Our goal is to use them to reinterpret some of the basic men's wardrobe pieces, like denim jackets or the classic men's white shirt, but using these techniques to really bring an element of fluidity and versatility to them.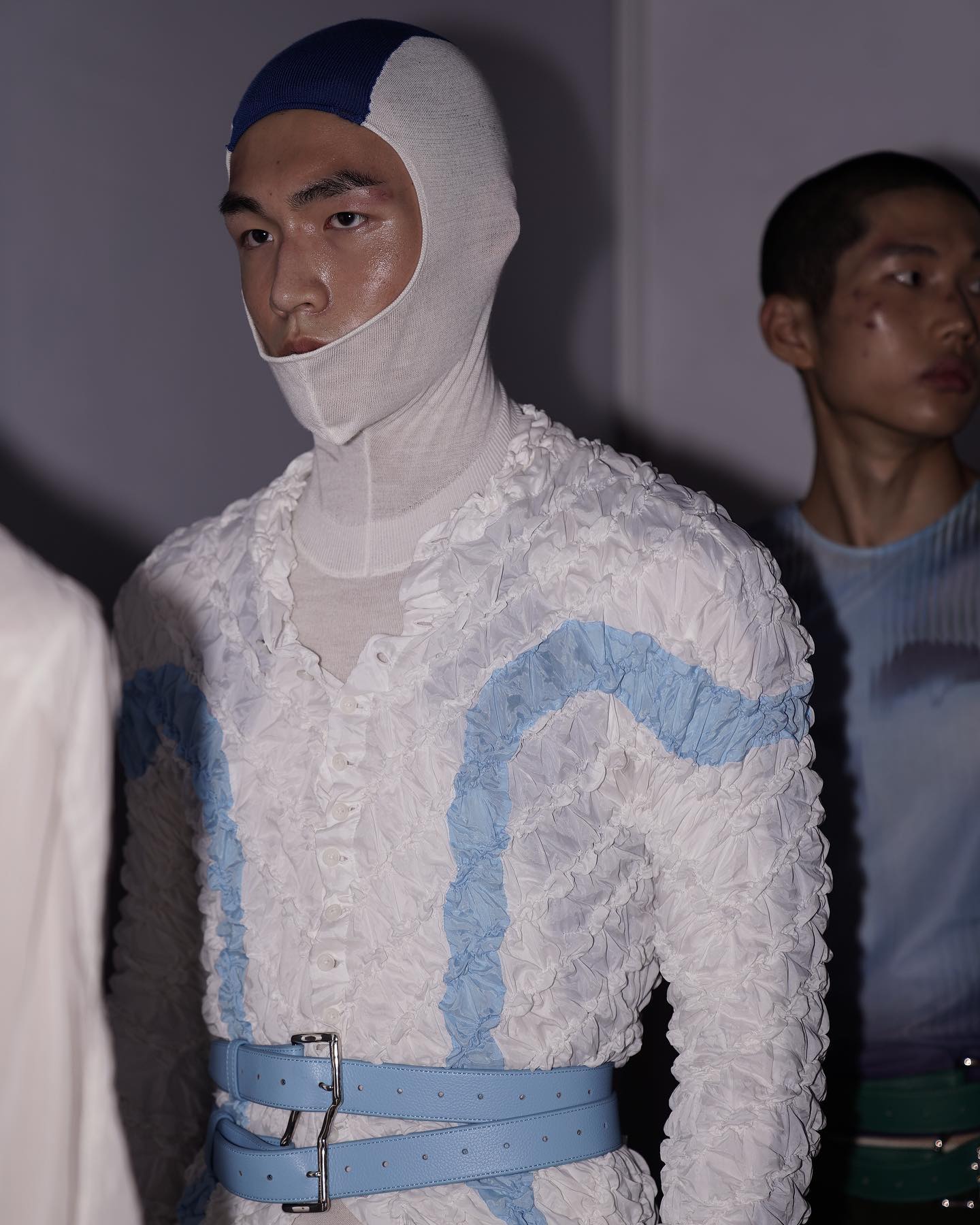 SS22 LOVE FOR SPEED Collection backstage. Image courtesy of PONDER.ER.
LE NEW BLACK: What has your experience been like so far, being part of SPHERE?
Derek: It feels so good to be back in Paris three years later, after a long gap because of the Covid situation, and being a part of the official SPHERE Paris Fashion Week showroom is such a privilege. It gathers so many different industry people together, for example, this morning we were talking to the founders of the BEAMS department store in Japan. It's such a great opportunity for emerging designers to be a part of.
LE NEW BLACK: So you launched the brand right around when Covid first hit, how did you navigate your wholesale business at the time, and how has it changed since you integrated the platform?
Derek: From the beginning, we had already begun engaging with retailers on a wholesale level, which is the business model we feel works well for us due to our aesthetic and price point. Part of this approach meant working with showrooms, which was obviously quite challenging at the time.
We were using line sheets and Excel before integrating and we definitely notice the difference in terms of the time it takes us to manage the collection planning and to gather the data, which can be a huge challenge for emerging brands. With just one click you can also see all of the stores' orders and the summary of your seasonal progress which is amazingly helpful for any brand that has wholesalers.
Whilst we can never replace physical interactions and presenting the pieces face to face, platforms like LE NEW BLACK really help designers by allowing us to present our collections digitally. They help facilitate buyers' discovery of all the different styles in the collection and allow them to make an order so conveniently via their computer. Tools like LE NEW BLACK are so much more convenient and relevant for wholesaling in today's digitalised environment.
LE NEW BLACK: Do you have any advice for young brands starting out their careers in today's competitive industry?
Derek: Stick to your vision and be able to adapt to changes. It's important to find your brand identity and be confident with it in order to stand out against your competitors and appeal to your clients. With everything that's going on around the world, there are a lot of challenges and it's a huge learning curve for us and for every young brand just starting out, but we are sure that moving forward we will benefit from everything it has thought us.