01/06/2022
Industry
LE NEW BLACK: Hi Vivian, can you tell us more about your experience and CRUSH Collection?
Vivian Chang: Hi LE NEW BLACK team!
I have a CRUSH on cashmere! This is where our brand name comes from; it is also where my passion lies. CRUSH started in 2009 as CRUSH CASHMERE, with just one cashmere collection per year until we decided to add more variety to our product lines. We now have 4 collections with 50 new styles each season, we also changed the brand name to CRUSH Collection, but to this day, many local clients, business partners and media still call us CRUSH CASHMERE. Our use of raw material grew from just cashmere, then to wool, silk, organic cotton, and in recent years to recycled yarn. We use a lot of natural fibres and collect second hand cashmere sweaters from our community to remake them into new sweaters. We care about our mother planet, and we are widely engaged in using environmentally friendly materials as a sustainable knitwear brand.
I am enthusiastic about being green, living a green lifestyle, it is within everything I do, how I handle waste in everyday life, how we reduce, reuse and recycle. I asked my family and my kids to do the same. Decisions I made when producing our products are based on the mindset of avoid waste and reduce carbon footprint. With sustainability in mind, the brand focuses on timeless garments in quality and present metropolis modern style. There are more than 100 retail points globally including Lane Crawford, Club Monaco, SKP and we can be found at Printemps.com this fall.
LNB: You are currently in the middle of your sales season in Shanghai, how does LE NEW BLACK transform the way your team manages orders and meetings?
VC: With all the sales information integrated on LE NEW BLACK, everyone in the team has a clear and updated view of the progress. We are also able to save time on managing tons of files through email and chats when the team can just log in and export the data they need.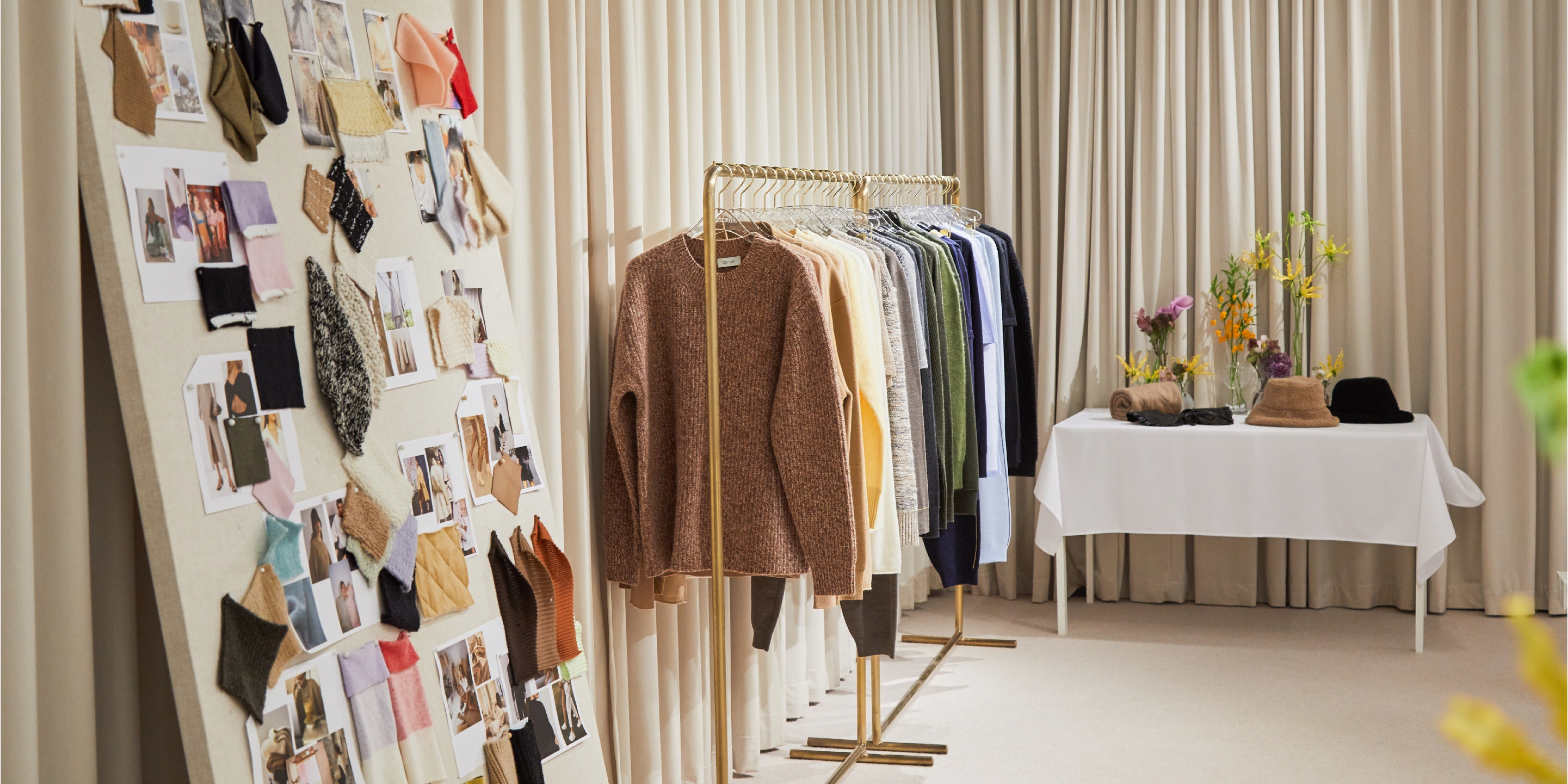 LNB: As we speak, Covid-19 cases in China are rising again. How do you think this will impact your coming sales season?
VC: The Covid-19 situation brings many uncertainties to the coming sales season. The changing policies in Shanghai where our headquarter is, make the market hard to predict. About 40% of our retail partners lower their budget for the coming sales season, and about 20% smaller customers decided to order later. But the key retail partners are still adding more budget to us, as they have been doing in the past seasons. Our sell through rate is good, our knitwear is one of the most comfortable choices when working from home. Our sales doubled last year, I am still confident that we will be back on our growth path very soon.
LNB: You gave your buyers access to your digital showroom powered by LE NEW BLACK since March 2022, what are their feedbacks?
VC: We are glad to see that clients are able to gain much more detailed product information through the LE NEW BLACK platform. It is obviously more flexible and easier for them to visit our showroom and place orders at any time. The solution is innovative and allows them to select just like a regular customer on an e-commerce site. If LE NEW BLACK was available in Chinese, it would score 10!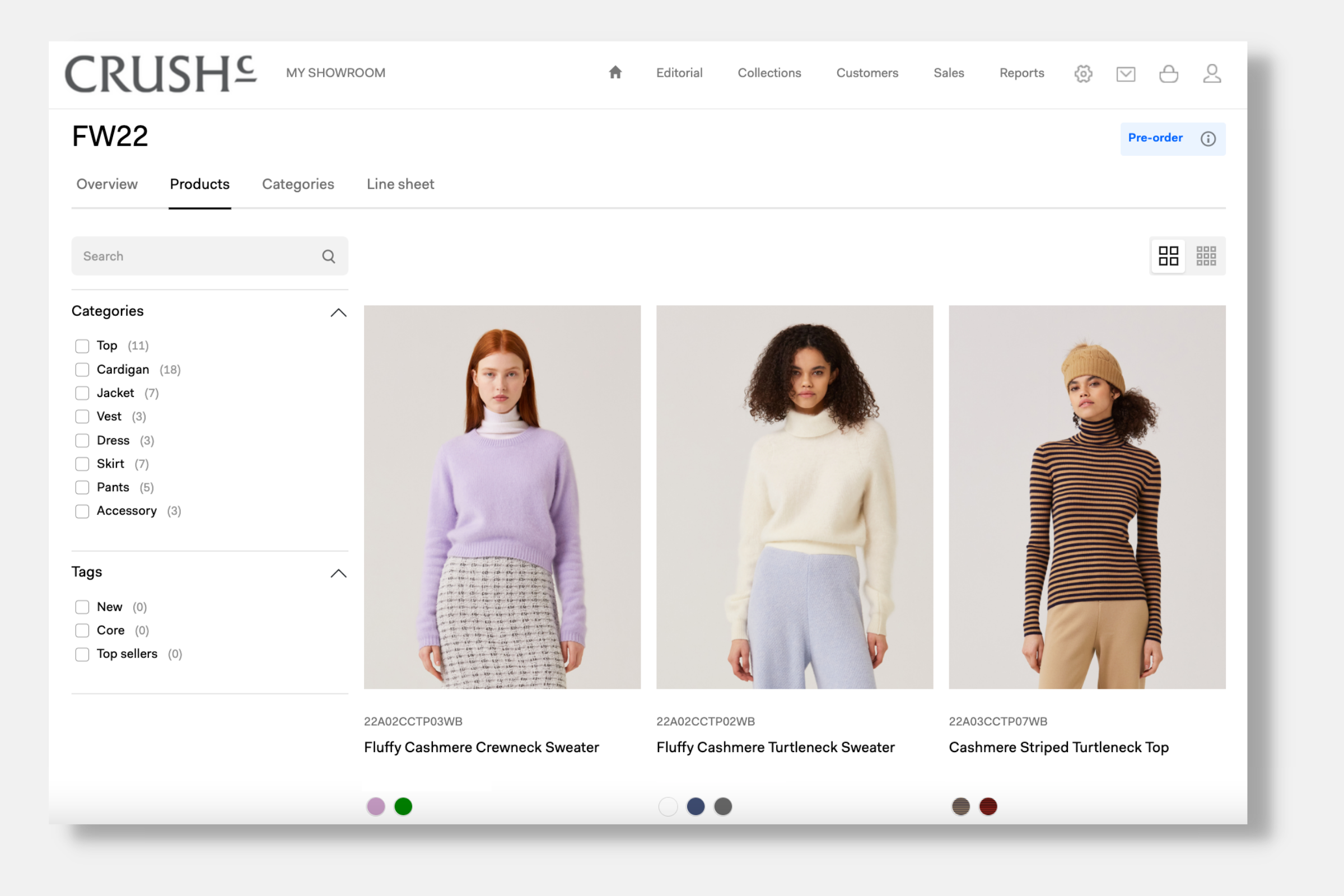 LNB: According to your experience, what are the specificities of the Asian market compared to the European one?
VC: CRUSH was founded in Shanghai and has been developed in the Asian market for over 13 years. With a great understanding of the market, we have developed a loyal community and a great reputation with our high standard quality and style. The European market is an area where we need to keep exploring and testing. In comparison, I would say that the Asian market, especially the Chinese market has its own social media and its own unique sales channels. Asian clients also show more interest in novelty designs, meanwhile, the European market shows a preference for premium quality items for everyday wear that are classic and versatile.
LNB: How do you think a solution like LE NEW BLACK helps brands to develop internationally?
VC: LE NEW BLACK allows us to integrate products from several collections and clients from everywhere in the world to the same platform, which makes everything more transparent to both our teams in Shanghai and in Stockholm. We are now able to gain global insights more easily. We also saved some repetitive work such as preparing order forms in different currencies, which now can be done easily with LE NEW BLACK's integration centre. The access rules and contact group functions are tailored to a brand like us that need to tailor our lines for different markets.
LNB: What is your favourite feature on LE NEW BLACK?
VC: We really love the invitation feature. It integrates links from different collections that allows the buyers to log in and view effortlessly. It also gives us an easier time to manage our invitations and follow up the selection process from each buyer, which is really handy for us to make sure our clients have a nice selection experience with us.