11/01/2022
Industry
We sat down with Andrea Menè, Managing Director at UK-based business management software Zedonk to understand what makes Zedonk a leading ERP in the fashion industry and the new challenges the company is currently facing. Having developed a built-in connector between both platforms a few years ago, LE NEW BLACK and Zedonk are complementary platforms and a real time-saver for brands!
LE NEW BLACK

: Hi Andrea, can you introduce yourself?
Andrea Menè: Of course, I am the Managing Director of Zedonk and Dedagroup Stealth UK. I have worked in the fashion industry for over 20 years, with brands like Church's, Dolce & Gabbana, J Brand, and Prada where I focused on managing their operations and implementing ERPs and technology into their infrastructures. I've been with Zedonk since May 2020, when it was acquired by Dedagroup Stealth, as part of the group's plan for internationalisation.
LNB: Can you tell us more about Zedonk?
AM: Zedonk is a UK-based business management software designed specifically for SMEs in the fashion industry. The system was created in 2006 and covers everything from development and production to sales and logistics. We have over 100 integrations with B2Bs, warehouse management systems, e-commerce, EPOS platforms. Zedonk was created to provide an all-in-one affordable solution to emerging brands. We want to continue empowering brands to manage and sustain their growth with our software.
LNB: Who are your clients?
AM: Over 1000 brands, designers, showrooms, and distributors, in 45 countries have trusted us for more than a decade. We work with a wide range, and some of the most successful brands today like Bianca Saunders, Christopher Kane, MNZ, Nensi Dojaka, Roksanda, Sunnei, and Viktor & Rolf. Zedonk is suitable for brands from any sector of the industry, whether they produce apparel, bags, jewellery, shoes, or lifestyle products. They all need to be costed, sold, produced, and shipped somehow.
LNB: How does Zedonk differentiate from its competitors?
AM: A lot of people are always surprised to hear that we're a small team. We've all come from the fashion industry one way or another, buying, designing, logistics, wholesaling. So, we really do understand the needs of our clients and can give them the best possible advice and support. We have a great reputation in the industry and try to be part of it as much as we can through partnership programmes with fashion councils and incubators at universities. We're constantly developing and updating the system to cover the needs of the industry. If we didn't, Zedonk wouldn't evolve as a product.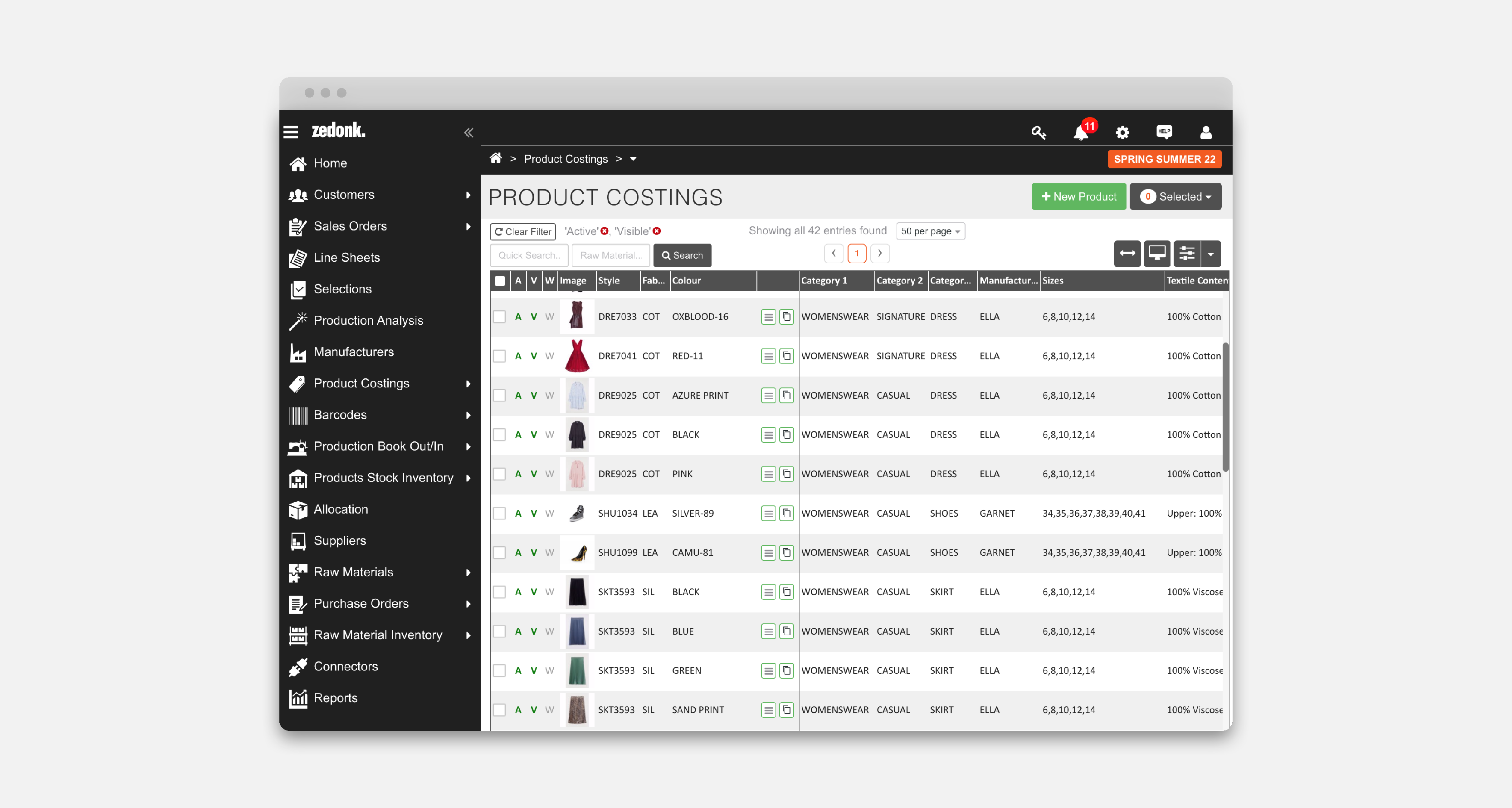 LNB: What are, according to you, the challenges that ERPs are currently facing?
AM: Two of the main challenges we've had to face have been Brexit and COVID-19. Both for very different reasons, Brexit was a huge challenge for us and many of our British-based clients. Many have had to look at opening different entities outside of the UK and warehouses to easily allow them to ship their goods. The pandemic on the other hand completely changed the industry. Our clients typically follow a wholesale model and rely on tradeshows as their main source of income. Having those eliminated made us really think about how we can provide a solution to help brands sell their collections to their wholesalers online. We've had to react and adapt to the current global situation by introducing new modules and developing our existing offering and integrations, something ERPs will always have to do.
LNB: What do you think are the advantages of a fully integrated digital ecosystem for a fashion brand today?
AM: A lot of brands come to us not having a system in place, or not knowing a system as Zedonk exists. They're usually trying to manipulate Excel spreadsheets to give them the data they need but end up creating costly mistakes, it will never allow them to grow. Then you have brands that have multiple systems in place that don't talk to one another. It becomes too expensive and frustrating having to manage the disparate systems which is why we always recommend clients fully integrate their existing systems, or find one that does most of it for you. Having systems communicate and feed data back and forth to one another simplifies every process. We consume so much data today, it is crucial to be able to access exactly what you are looking for quickly.
Thank you Andrea Menè for your time and valuable answers!
Learn more: zedonk.co.uk