30/06/2021
Industry
Xavier Hirth and Alexandre Blanes founded IMPAKT 360 in Montpellier in 2017, after meeting in business school. The company specialised in the production of innovative content using new 360° technologies, now has numerous clients in the real estate, retail, museum, campus and school sectors and a team of around 15 people. As part of a partnership, many of LE NEW BLACK's clients have produced a 3D tour of their physical showroom for the Spring-Summer 2022 season. We met Xavier at SPHERE Paris Fashion Week® Showroom during the Paris Fashion Week® SS22 Menswear season.
How was IMPAKT 360 born?
Our company was born out of a simple observation: new technologies such as virtual reality, 360° video, virtual tours and augmented reality are not sufficiently present in today's companies. Too expensive, unknown, poorly used... the reasons for these shortcomings are numerous and we are working to fill them. After several trips to the USA and Canada to meet companies at the cutting edge of these technologies, Alexandre and I returned to France to offer solutions adapted to our local companies, first in Montpellier and then throughout France thanks to our network of agencies. Today, we work with companies such as Biocoop, Sport 2000, Dammann Frères etc.
What are the different services provided by IMPAKT 360?
We offer 3 different types of 360° virtual tours: the 3D virtual tour from a physical space, the 3D virtual tour from a 2D plan, and the Google Street View virtual tour. We also create 360° videos to be offered with or without a virtual reality headset.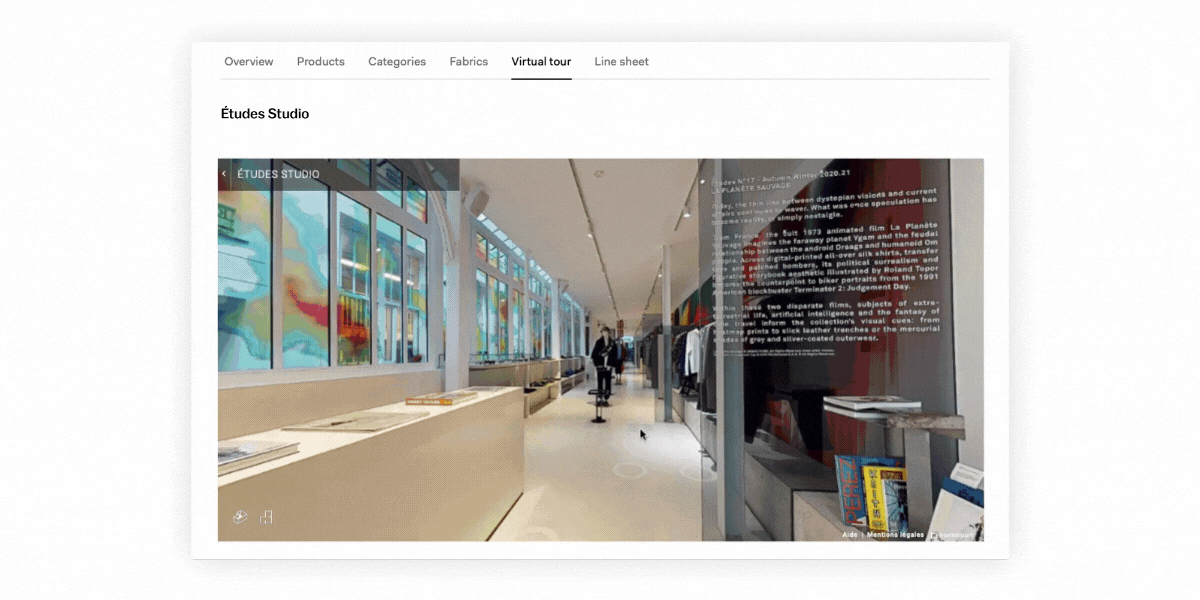 Each service has its advantages, and to offer the most suitable service we must understand the client's final objective: to reproduce a traditional museum visit or to show digitally what one would not otherwise see, to offer another point of view of a campus or to improve one's Google My Business SEO... Everything is possible! On the technical side, it is possible to add measurement tools to the final virtual tour, to integrate videos with green backgrounds, various interaction points and shopping carts to personalise the virtual tour.
What are the key steps to a successful 3D virtual tour?
When capturing a physical showroom of a fashion brand, the challenge is to work on the e-merchandising, which may differ from the merchandising in the shop. The brand must also think about the discovery path to propose to its B2B clients, in order to build reference points during the capture and limit the number of full-length mirrors in the room. The capture then lasts about 1 hour depending on the size of the showroom, and is available within 24 to 48 hours in the form of a link if there are no or few alterations. All that remains is to deploy it on all the desired media!

"This innovative content has been increasingly in demand in recent months since the outbreak of the COVID-19 crisis, but especially because a virtual tour increases customer acquisition."
Xavier Hirth, co-founder of IMPAKT 360
For more information: https://impakt-360.com
Interview conducted by Julie Bompas on 22 June 2021.