24/09/2020
Industry
Wholesale, Covid-19 crisis and ambitions for the future, 4 questions to Xavier Meguallati, Wholesale Manager at Vicomte A.
LE NEW BLACK: You are currently meeting buyers and showing your new collection at your physical showroom in Le Marais in the center of Paris. How did the crisis modified the relation and the meeting schedule with your buyers? What are the evolutions you noticed the last five months on the French market, and what are your mid and long-term strategy regarding presentations and showrooms?
Xavier Meguallati: This season we welcome around 60% of our clients to our showroom, most of them are French. We work with our Japanese distributor and our foreign buyers through our digital showroom on LE NEW BLACK, and support them with video meetings. Some of them are already autonomous and simply order online! We also maintained a physical showroom in Belgium, to meet our clients from Belgium and Luxembourg.
The crisis pushed us to completely rethink our organisation. We had to close our permanent showroom during confinement, deal with the temporary closing of our stores and protect our teams by organising remote working. We then decided to organise a temporary showroom instead of a permanent one, and to invest in a digital showroom to keep the relation with buyers all year long.
The French market changed a lot the last few years, and it's like the movement sped up the last five months. Showroom periods became shorter than the traditional 2-3 months, and seasonal collections are rationalised. Regarding SS20 and FW20/21 in particular, summer sales have been postponed to mid-July, and winter collections have been delivered in September.
LNB: You joined Vicomte A. team in 2018, the French brand with a casual and elegant image founded in 2005 by Arthur de Soultrait, and that imposed colored polos as a basic of the male and female wardrobe. What are your challenges today?
XM: Our SS21 collection is articulated around three exclusive motifs. For the next collections we want to develop this concept to complete our offer, and bring bolder contrats to our garments, as contrast is what the clients of Vicomte A. are looking for.
During confinement, and like many brands, the sales of our e-shop have dramatically increased. We will develop our e-commerce further and align our BtoB showroom in the same direction, through visuals and specific shootings. Our goal for our BtoB is to go further than simple lookbook pictures for the next season!
LNB: Regarding BtoB, what were your needs and expectations when you decided to integrate
LE NEW BLACK

to your organisation? What does it bring to your relation with your clients today?

XM: A few months ago, getting a BtoB showroom thought like the mirror of our BtoC e-shop became essential for Vicomte A. We wanted to speed up our digital transformation to gain time while taking orders in the showroom, and to keep the relation with buyers all year long.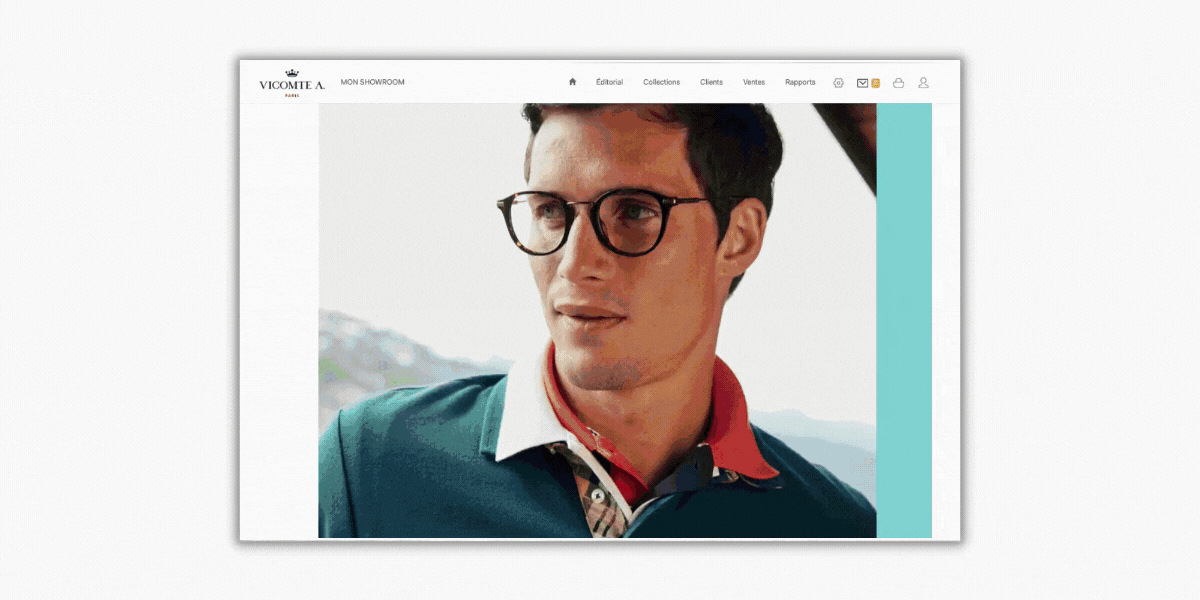 "Today, our meetings are shorter, as our buyers discovered the collection online and they arrive in the showroom with an idea of the collection. Also they keep an eye on collections and products all along the season, which helps up pushing stocks and reorders."
LNB: according to you, what are the three innovating companies or people in the fashion industry that answer the major challenges our society go through (environment, society, economy etc.), and that you would advise the actors of the industry to follow carefully?
XM: I think companies such as Heuritech, SoCloz or Instagram show very well how much fashion needs digital for every aspect. Digitise fashion will help reducing its environmental impact thanks to more targeted campaigns based on data, and by helping brands to build offers that fit better the expectations of their communities.