03/05/2023
LNB Features
LE NEW BLACK has been dedicated to providing clients with cutting-edge service and an intuitive wholesale platform since its launch in 2009. This commitment to pushing the boundaries of digital wholesale continues with our latest round of platform updates, aimed at enhancing the collaborative relationship between brands and buyers. Read on to explore our latest feature round-up and find out about the latest platform updates that you need to know about for a successful sales season ahead.
A targeted sales approach for the most efficient inventory management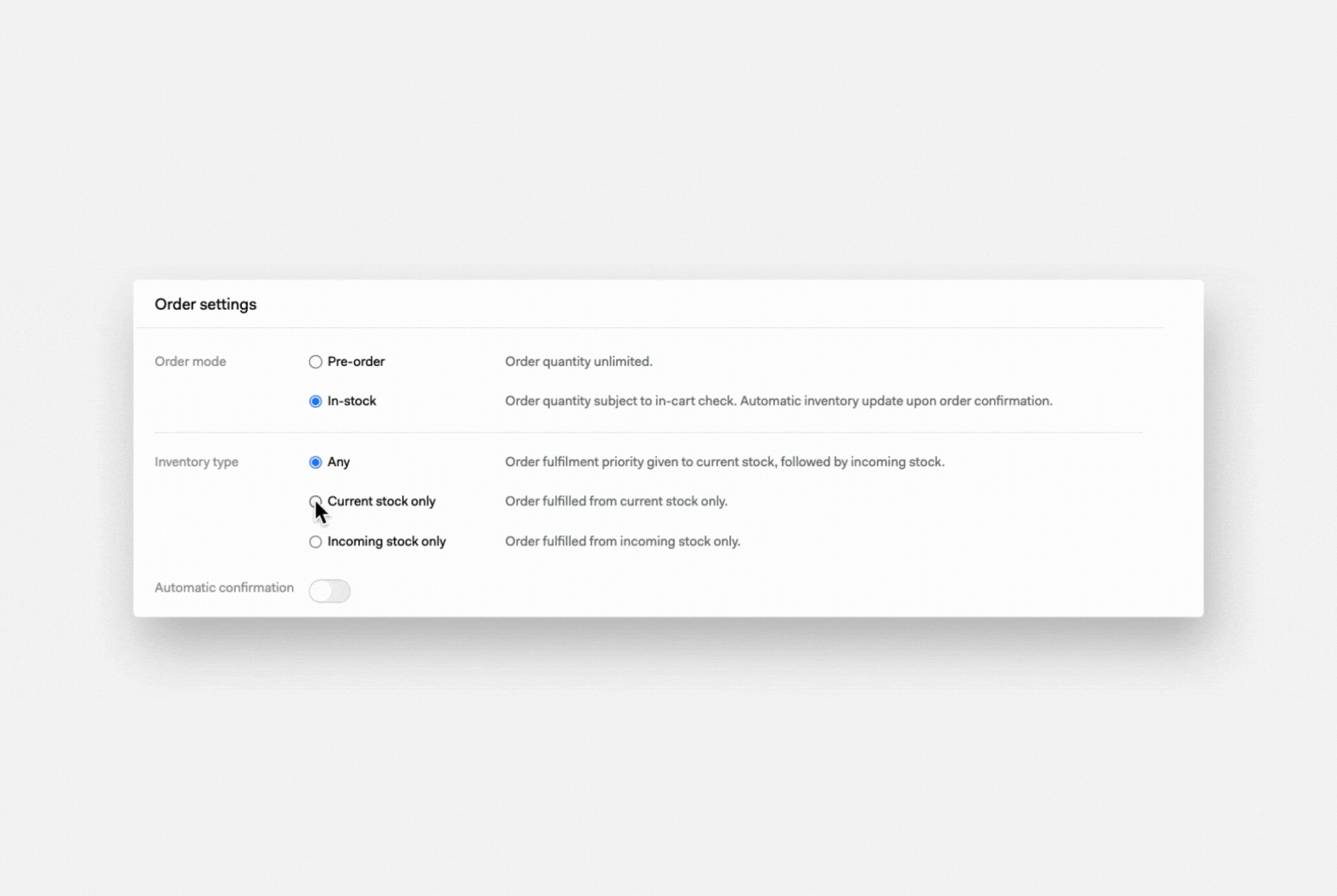 Say goodbye to excess inventory, and hello to informed buyers with the all new sales options Current, Incoming, and Any, part of the recent Inventory Type feature update designed to help brands better target their sales and reduce excess inventory.
Brands now have the freedom to choose to sell their current stock or incoming stock only, making it easier to tailor their sales strategy to their current inventory levels, in turn helping to minimise waste, improve profitability, and reduce the need for markdowns.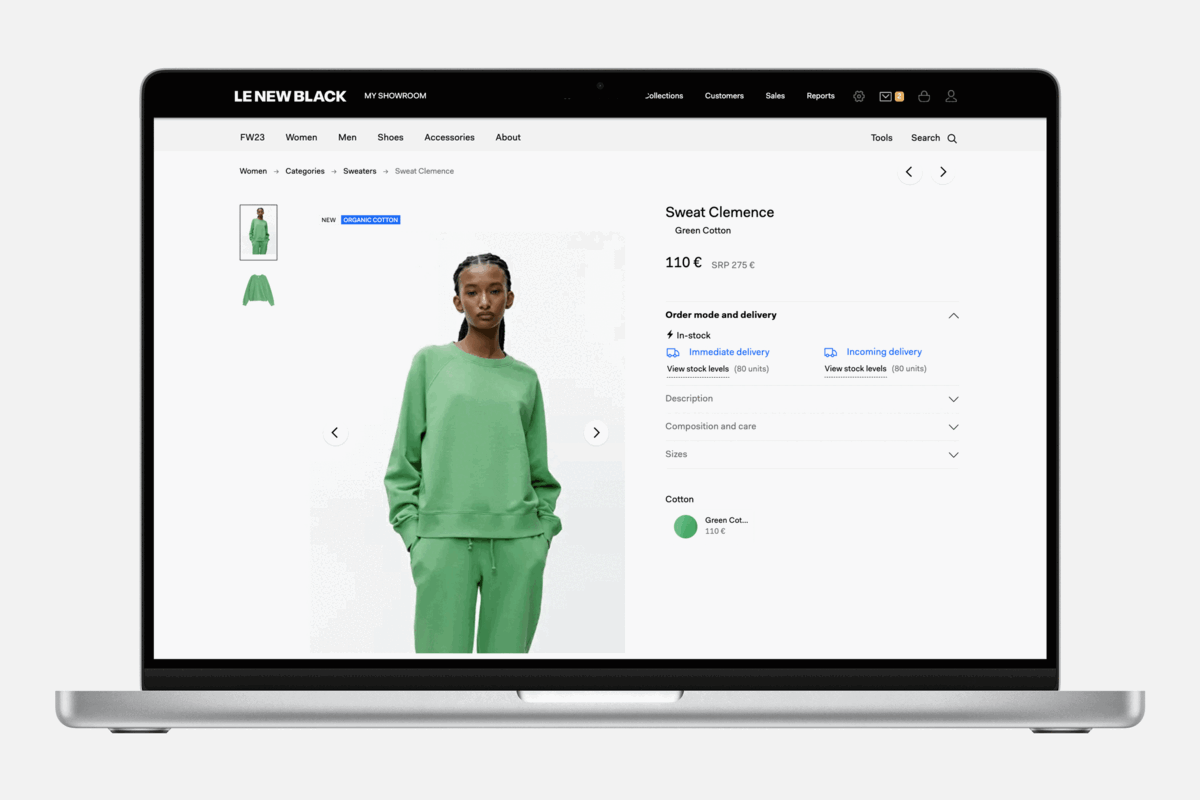 But not only does the new Inventory Type feature give brands greater control over their inventory management, and enable them to make more informed decisions about their sales channels and stock levels, it also helps buyers do the same by displaying the type of stock that is being ordered by them on the product page and during the order process, allowing them to stay just as informed as the brands they are buying from. Groundbreaking, we know.
Want to learn more about new feature? Watch our recent webinar Strengthen your stock management with LE NEW BLACK to find out how you can use it to streamline your wholesale operations and maximise your sales potential today.
Customisable product assortments to unlock unprecedented sales potential
It has never been so easy for brands to create visually stunning collection pages that capture the attention of their buyers with the latest update to our product sorting tool. Thanks to this new feature, brands can now create custom assortments for all of their categories at once, without the need to switch back and forth between them to curate products, allowing them to maximise sales potential by making it easier for their buyers to find and purchase the products they're looking for. The update features a simple, one page, drag-and-drop interface, now accessible from any product page, making e-merchandising with LE NEW BLACK faster, more intuitive and more powerful than ever before.
An intuitive shopping experience inspired by leading B2C interfaces from all over the world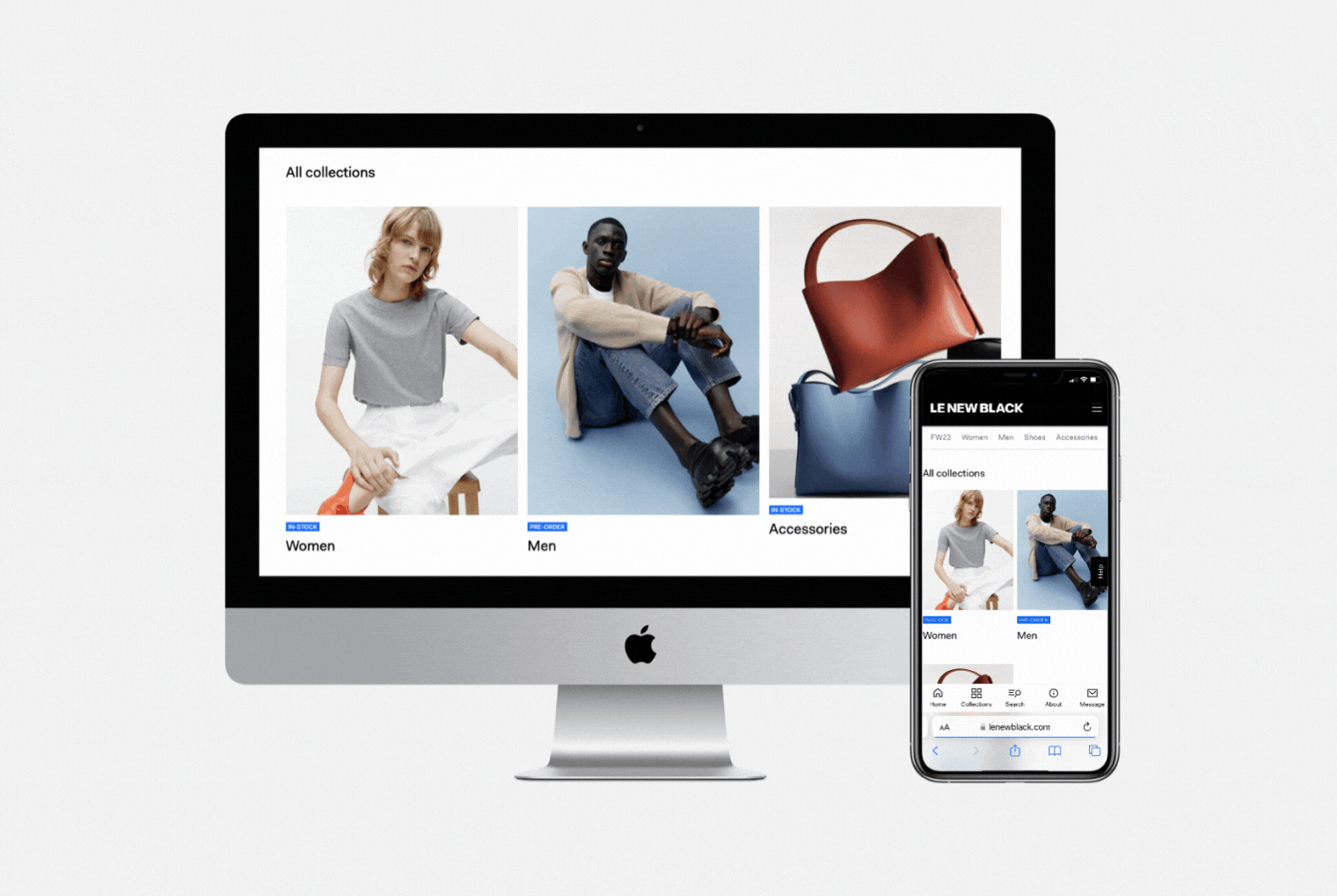 Say hello to seamless browsing and faster product selections, thanks to our latest Collections page update. Brands can now choose to show off multiple collections at once or to highlight only one with a captivating panoramic image. With this new design, buyers can now explore a brand's offerings just as they would on any leading B2C website. Never again will they miss out on discovering all that a collection has to offer, navigating their way through a brand's every product range from the same page, accessible from the main showroom menu in just one click. Welcome to the future of collection discovery on LE NEW BLACK!