Activewear has become the international name for the sportswear market, while fashion has started leaking into gyms and sports intriguing the fashion industry seeking the right wording, the good brands, and the good positioning. At this stage, Nordstrom has its activewear corner, Saks 5th Avenue in New York launches its own floor called "The Wellness", while online leaders such as Matches or Asos have sections devoted to this relatively new, up and coming market.
Vidya Narine, the co-founder of LE NEW BLACK has got into a conversation with Brice Partouche, the founder of Satisfy, to understand better this market with a creator who is a running fan with fashion in his veins. She met Brice at the Ob-la-di café (54 rue Saintogne) the home of great Chia pudding and passion fruits.
VN: Brice, activewear has been a plum in everyone's mouth lately, for you which brands are credible in terms of fashion and sports, and who corresponds to your definition of activewear?
BP: I love what the guys from District Vision do. The founders are yoga fans with a background at Saint-Lauren and Acne Studio. They have a great taste and at the same time, their products are very technical. Also, Salomon has a good step into the market with its lifestyle section conducted by Jean-Philippe Lalonde (previously worked at Arc'teryx). You've seen their products at The Broken Arm, and at the moment we are preparing a beautiful collaboration with them. Hoka One One is another story: real sneakers made for running, as I use them myself, I see closely the connection between technique and design with a bit of 90's touch. And finally, Tim Coppens, the finalist of LVMH prize. If you want to see a good selection of activewear brands you should visit Mr. Porter and Browns who just released a selection of 10 specified brands including Satisfy.
VN: According to you, what are the main attraction and strength of an activewear brand? And what impact does this attraction have on its distribution?
BP: Its strength comes with the community. We are all passionate about sports and we participate in the same events (like a marathon), we have the same lifestyle and we know each other or eventually meet somewhere around the world. So the distribution of activewear brands is mainly online and at their own retail stores. The sports fans find and follow a brand with the bias of their passions, and/or spend their money through a multi-brand store that would make them discover the activewear brands. It's of course very important from a point of view regarding the positioning, image, and marketing. This is why Satisfy is only at 50 exclusive hype stores like Colette, Matches, Voo Store… These are the windows that interest me the most. But for the activewear brands in general, the biggest share of the business works online. The product is niche so the direct relationship with the customer is very strong. My customer service team itself is conducted by people who are passionate about running, and they share the problems of our customers. We have a very "customer centric" vision in that sense and I think this is one of the reasons that bring activewear success. A relationship that is "customer centric", very qualitative that is the opposite of what the mass market offers for example.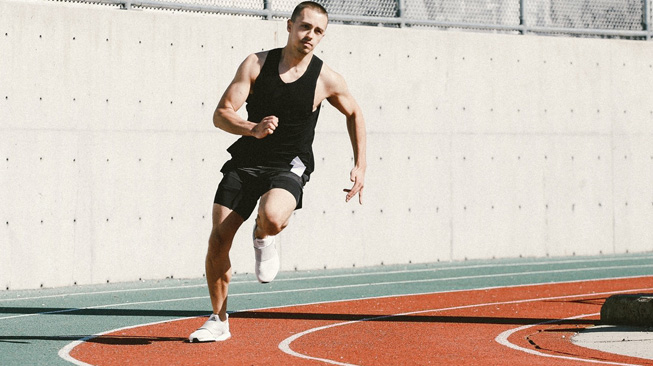 VN: This evolution of being "customer-centric" is something we see on LE NEW BLACK too. It works in a sense that we try to develop our platform by personalizing the selections, giving access to capsule collections, or opening stocks to be ordered online, creating a window of a white label for brands etc. The relationship B2B e-commerce aligns more and more with the relationship B2C e-commerce sites offer. And the buyers would like to have a proper experience of buying just like a B2C customer.
BP: Yes, it is important to have empathy for customers. Whether it is B2C or B2B, companies should keep the quality of the relationship and the exchange with the customers. As Satisfy we move forward in that sense by giving the option to personalize some products, creating regular capsule collections, opening collections for reorder which reactivates a lot of buyers, newsletters in regular basis to the end customers…
VN: You created a brand that represents your lifestyle and evolves in an organic and qualitative way. What is the biggest challenge of Satisfy for you?
BP: The main challenge is to be accessible to a wider audience from ordinary sports lovers to the champions. A premium product, technical with beautiful materials. This is what brings a premium activewear brand to the luxury designer stores. This evolution reminds me of denim when it entered to Collette in the 2000's and to multi-brand stores just like a real fashion material. What matters is to do what you like and do it well. It is just like this Chia pudding you see, you need to do it well and sell it with pleasure.
VN: Thank you, Brice, have a great fashion week!
BP: Thank you! We are at 45 rue Chapon from 22nd to the 27th for the Paris Fashion Week Men's, ready to welcome buyers from the best stores in the world!